ORGANIC HYALURONIC
Purify. Cleanse. Soften.
Regular price
Sale price
$99.00
Unit price
per
Sale
Sold out
60-Day Guarantee | Free Shipping + Easy Returns
Everything you need for glowing, spa-worthy results right at home. Our Purifying Face Mask provides dual exfoliating action from nutrient-rich fuller's clay and microspheres of olive leaves to deep clean pores and slough off dead skin for a bright, glass skin complexion. Our Moisture Boosting Lip Balm treatment smooths and plumps for unbelievably soft, supple lips.
Set Includes:

 Hyaluronic Purifying Face Mask (3.5 oz), Hyaluronic Moisture Boosting Lip Balm (0.20 oz.) & Bamboo Cleansing Glove (1 glove)
View full details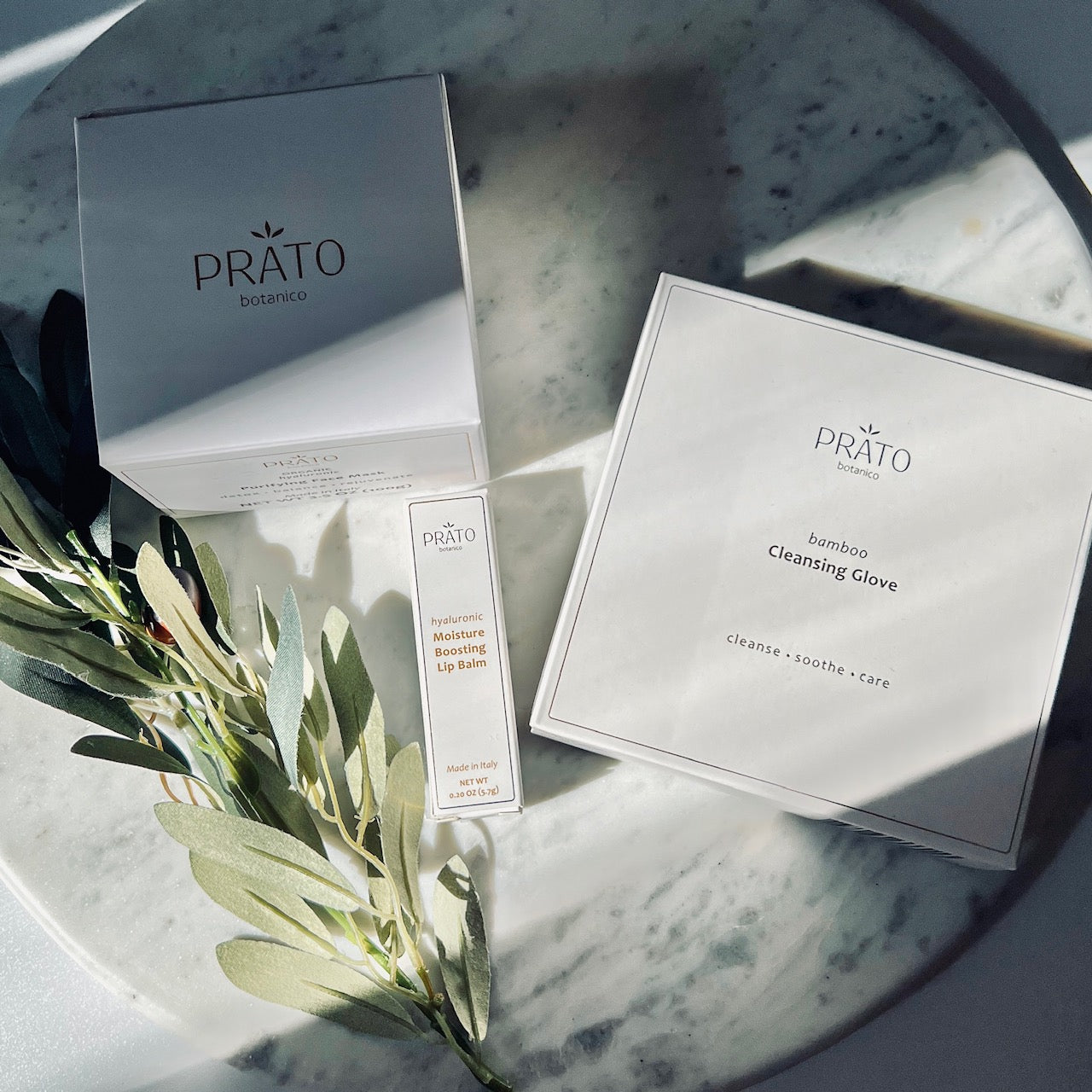 Certified-Organic Skincare

Sustainably Made in Small Batches

Cruelty-Free & Vegan-Friendly*
Build Your Skin Care Routine With Our Detox & Glow Facial Set
Build a Healthy Skin Care Routine

Is your skin acting up by breaking out or getting greasy? Do you want to learn a healthy skincare routine to cleanse it appropriately? You have landed at the right place!

Having flawless skin through your adolescence and further is not merely a matter of DNA. Your daily habits, including eating routine, skincare regimen, and exposure to pollutants, also play a major role in altering skin type. This is why it becomes essential to aid with adequate protection and nourishment by using a natural organic face cleanser introduced by Prato Botanico. 

Our Calming Cleanser infused with the goodness of aloe vera and hyaluronic acid has the potential to address all skin issues and resolve them to the core.

Here is everything you need to know about using our organic skin care face wash. 
Basic Skin Care Steps

The basic skincare routine consists of 3 main steps:

1. Cleansing

No matter if you have a dry, oily, or combination skin type, including a natural organic face cleanser in the cleansing process is important. Our Calming Cleanser having aloe vera as a key ingredient, ensures to clear the clogged pores and offers hydration as well. 

2. Moisturization

Moisturization is the ultimate last skincare routine step that adds moisture to the skin, making it plump. If you have dry skin, use our best natural face cleanser for dry skin and layer it up with a Smoothing Day Cream. Individuals with oily skin must try this Xanthan Gum and glycerine-based Calming Cleanser for in-depth hydration. 

3. Treatment 

A hydrating mask treatment made with all-natural and organic ingredients, including hyaluronic acid, soothes the skin and prevents inflammation. Preferably, people with oily skin should use aloe vera-based treatments after using an organic face cleanser for oily skin.

That being said, check out the reasons to use an organic skincare face wash as the first step of a good day/night skincare routine.
Benefits of a Clean Skin Care Routine

Including calming facial cleansers in your daily skincare routine works to heal the target areas and provide hydration. When used regularly, Calming Cleansers can benefit in the following ways:

1. Helps Prevent Skin Issues

Our best natural face cleanser with organic ingredients unclog pores by cleansing excessive oil or dirt. Individuals suffering from the following skin issues can greatly benefit from our Calming Cleanser:

Pimples

Acne

Scars

Dark Spots

Dark Circles

Uneven Skin Tone

2. Removes Dead Skin Cells

Dead skin cells, if not dealt with in a timely manner, can cause dull and uneven skin with a lot of break outs. Carefully balanced ingredients, including  naturally-derived Salicylic Acid, Sorbic Acid and Citric Acid in our natural face cleanser, remove dead skin, imparting a fresh and supple look.

3. Clarifies Pores

Calming face wash's organic ingredients helps in clearing the pores and preventing dirt buildup in them. The in-depth pore cleansing decreases the chances of pimples, acne, and breakouts.

4. Delays The Signs Of Aging

The balanced amount of hyaluronic acid infused in our products, especially the Calming Cleanser, makes your skin softer. In addition, it imparts adequate skin hydration necessary for reducing the appearance of  wrinkles or fine lines.  

5. Hydrates The Skin

An eco-friendly face cleanser maintains the pH level of facial skin, eliminates the signs of aging, and makes skin look younger altogether. A well-moisturized skin also controls sebum production, thus decreasing the chances of acne or breakouts.

Know Your Skin Type

The conventional "watch and wait" method is quite effective in determining your skin type (dry, oily, or combination). Here are the steps to follow:

Wash your face with organic skin care face wash and pat dry.

Observe your skin midday.

The Results

If your skin starts to get shiny, or greasy - you have an oily skin type.

If it gets flaky, tight, or dry - your skin type is dry.

If the T-zone is only greasy - you have a combination skin type.

If your skin feels hydrated without releasing excess oil - you have a perfectly normal skin type.

If your skin feels sensitive and is prone to acne breakouts and irritation - you have sensitive skin